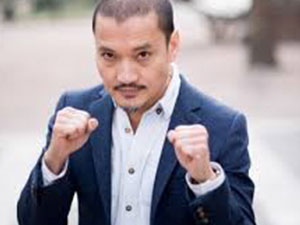 Jon Jon was born and raised in the Philippines and resides in Los Angeles, California. Jon Jon Briones will be heading to Broadway in early 2017 in the revival of Miss Saigon in the role of the Engineer. He recently played this role in London's West End to great acclaim. He won several awards and was nominated for the prestigious Lawrence Olivier Award for Leading Actor in a Musical. He has also appeared in several television shows as well as film, commercials and many stage productions. He just finished playing Georges in a production of La Cage aux Folles at East West Players.
Theatre includes: first venturing abroad in 1989 to join the original London cast of Miss Saigon; he has since played The Engineer in Germany, on the USA tour, Asian tour, back home in the Philippines, in the final year in the West End and, more recently, on the UK tour. Recently he has been involved in the pre-Broadway development of new musical Allegiance with Lea Salonga and George Takei. Also, since moving to Los Angeles, the title role in The Romance of Magno Rubio ([Inside] the Ford, LA Weekly and Ovation Best Lead Actor nominations) and lead character Vichear Lam in new work Sweet Karma. Other favourite roles in Los Angeles, New York and worldwide; Frederik Egerman in A Little Night Music, Enjolras in Les Misérables, Seymour in Little Shop of Horrors, Tateh in Ragtime, Lion in The Wiz, Laertes in Hamlet, Rapunzel's Prince in Into The Woods, Slovitch in Fools, Man 1 in Closer Than Ever and Lukas in Peregrinasyon (Ma – Yi Theater Company).
Film includes: Model Home, Blood Ransom, The Fifth Voyage of Sinbad, Breathe, Brown Soup Thing, An Immigrant Girl's Journey, Proud American, Finding Foosball, Potluck, Feast and Yokai.
Television includes: guest starring in Las Vegas, Sons of Anarchy, Bones, The Mentalist, Monk, Southland, Miami Medical, General Hospital, Law
View Project