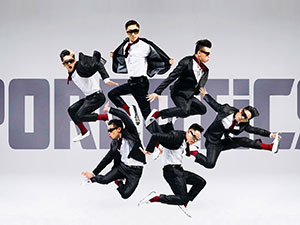 Poreotics, crowned as MTV's America's Best Dance Crew Season 5 Winners, continue to captivate audiences across the globe with their unique fusion of "Popping, Choreography, and Robotics." These shaded showmen, inspired by robots, aim to entertain the world with their unexpected humor and revolutionary mixed style. Poreotics has laboriously honed their craft of popping and robot movement and have become a pinnacle at their game. With their unrivaled blend of dance styles, integration of humor combined with their distinctive and animated look, Poreotics has created fiercely entertaining and unparalleled performances.
Poreotics never performs without their trademark shades. The shades are used as a tool to hide emotion so that Poreotics can effectively deliver unexpected twists in their routines, taking the audience from serious to funny without tipping their hand.
Their signature moves and style has allowed them to achieve local and worldwide fame. Poreotics has worked with the likes of Justin Bieber ft. Usher in "Somebody to Love Remix" and Bruno Mars' "Lazy Song," donned in monkey masks and flannels. Additionally, they have been featured on YouTube sensation Ryan Higa's "Best Crew vs. Poreotics" and more recently on Disney's "Shake it Up." Internationally, they have continued to work with Justin Bieber, opening for his "My World Tour" in Manila, Philippines and also with Ganesh Hegde, a Bollywood choreographer and international celebrity from India, for his new music video "Let's Party."
Poreotics has become a force within the dance and entertainment industry. For these six amazing and talented performers - Chad, Can, Dumbo, Law, Jet Li, and Charles - the sky's the limit.
View Project